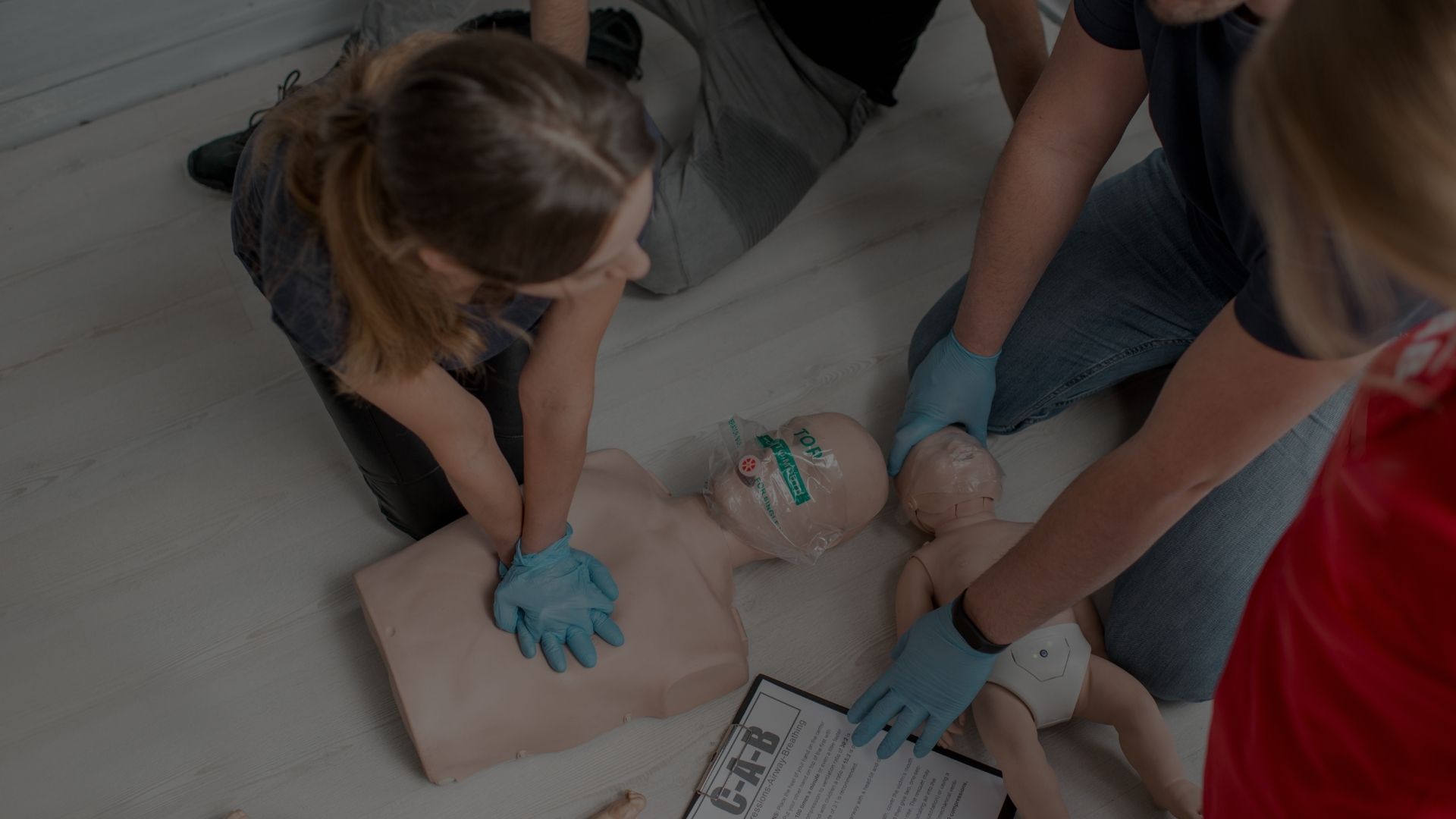 Let's take a look at the importance of CPR certification for family members with disabilities and how you can be prepared to help them. According to CDC data, about 61 million, or 26% of adult Americans, have some form of disability. In addition, 11.5% of this demographic has heart problems.
Conclusively, understanding the importance of CPR certification for family members with disabilities is more than essential. Namely, people with physical or cognitive disabilities are more limited in performing everyday tasks, which makes them more vulnerable and susceptible to accidents.
By enrolling in CPR classes, you will not only learn how to help your loved ones by administering life-saving CPR techniques, but you will also gain a more profound knowledge of how to provide them with the best care.
The Link Between Disability and Heart Problems And How CPR Can Help
The expression "disabled" is generally associated with people who have difficulties completing day-to-day tasks on account of medical conditions that can be linked to physical injuries or mental illnesses.
On that note, disabilities come in many forms. They can include mobility and physical impairments, head injuries, vision and hearing disabilities, cognitive or learning disabilities, or psychological disorders.
For example, 13.7% of adults in the US struggle with mobility problems, 10.8% deal with cognitive dysfunction, and 6.8% are unable to live independently.
Heart conditions, such as ischemic heart disease, chronic heart failure, symptomatic congenital heart disease, chronic venous insufficiency, and peripheral arterial disease, can also qualify for disability.
In fact, according to studies, adults with heart problems show increased susceptibility to developing some form of disability. In this regard, approximately 4 out of 10 adults with heart problems have some form of disability, the most common being cognitive impairment.
Another study suggested that patients with intellectual disabilities were more likely to receive CPR compared to those without intellectual disabilities (37.8% vs. 21.6%).
Yet, based on one independent research, people with disabilities frequently experience social, financial, and physical difficulties finding available CPR courses. In addition, it has been found that online CPR courses have a number of shortcomings regarding the accessibility of digital content, which may prevent people with disabilities from learning how to perform CPR.
As such, there is increased advocacy of CPR courses that cater to people living with family members with disabilities, both physical and cognitive.
How to Help With a CPR Certification for Family Members With Disabilities
The crucial role of caregiving is to provide support and comfort to people with disabilities by aiding their independence and making them feel safe at the same time. Caregivers need to be prepared for emergencies, meaning that consulting with a doctor and obtaining a CPR certification is a must.
That said, CPR classes come in different formats. For example, the American Red Cross offers in-person (instructors + hands-on skills lessons), online, and blended courses (a combination of online and in-class sessions).
The American Heart Association provides a special course on Family & Friends CPR. This class utilizes lifesaving techniques, such as adult hands-only CPR, performing CPR on adults with breaths, applying child CPR with breaths, using AED on children and adults, and performing CPR on infants.
The Family & Friends CPR course comes in a classroom format, led by AHA's instructors or facilitators. This class combines theory and practice — watching videos and practicing CPR on special manikins.
Participants can take the following courses separately or as standalone classes:
Adult Hands-Only CPR/Adult CPR with Breaths/AED/Choking. The duration of this lecture is approximately 39 minutes
Child CPR/AED/Choking. The length of this class is roughly 27 minutes
Infant CPR/Choking. This lesson takes approximately 21 minutes.
CPR Certification for Family Members With Children With Disabilities
Based on the stats, 17% or 1 in 6 children in the US aged between 3 and 17 years have some form of developmental disability. Developmental disabilities incorporate learning, physical, language, and behavior impairments.
Taking care of children with emotional, physical, behavioral, or learning difficulties requires understanding and unconditional support since they often need assistance executing everyday tasks.
Furthermore, those with, for example, Down syndrome or Autism, who also struggle with communication barriers, might not be able to explain the problem to their caregivers.
This is where AHA's Heartsaver Pediatric First Aid CPR AED courses come into play. This course is intended for caregivers who need to offer quick assistance to an injured child or infant before the arrival of professional help. The course comes in two formats — blended (online and hands-on skills classes) and instructor-led, hands-on classes.
According to the American Heart Association, if you don't have a CPR certificate, you should call the local emergency response number and perform hands-only CPR. This technique should be used if the teenager suddenly collapses.
To perform hands-only CPR, you must press the chest at a rate of 100-120 compressions per minute. However, if the child stops breathing, caregivers must perform conventional CPR, which covers mouth-to-mouth.
Based on the American Heart Association recommendations, caregivers should perform a combination of conventional CPR and breath compressions if:
The patient is an infant (0-1 year of age)
The patient is a child (up to puberty)
If the patient is unresponsive and doesn't breathe normally
If the patient is a victim of drug overdose or drowning
If the patient collapsed as a result of breathing issues or prolonged cardiac arrest.
The Importance of CPR Certification for Childcare Workers and Parents
Parents, babysitters, nannies, and teachers are also encouraged to take CPR courses to be able to provide the best care to children with disabilities.
Although they might look similar, CPR classes for adults and children differ. Since children's bodies are much smaller, they are more prone to injuries caused by the hands-on CPR technique. In other words, performing CPR on children requires gentler compression.
Furthermore, childcare workers must also know how to execute back blows and abdominal thrusts, given that children are more prone to choking.
That said, the above-mentioned AHA's Heartsaver Pediatric First Aid CPR AED course incorporates everything a childcare professional and a parent would need, such as classes on providing first aid, preventing injuries, controlling bleeding, and performing CPR.
The course also covers breathing problems, electrical injuries, allergic reactions, fainting, and seizures.
On the other hand, the Red Cross provides a Child and Baby First Aid/CPR/AED course. This online class is designed as a guide for helping children and infants with breathing and cardiac problems.
Training For a CPR Certification for Family Members With Disabilities
The American Heart Association and the National Organization of Nurses with Disabilities (NOND) have developed a disability-specific training program called Advisor: Basic Life Support (BLS).
This course is intended for people with disabilities who are physically unable to execute a cardiopulmonary resuscitation. The main goal of this class is to teach them how to advise others in performing CPR and using an AED.
The lessons include learning how to verbally direct others to perform CPR for adults, children, and infants, in addition to using an AED. Students who pass the exam will receive Advisor: BLS cards.
To apply for this course, candidates must first pass the HeartCode BLS Provider Course. This course is for healthcare professionals who want to learn the basics of performing CPR in hospital and pre-hospital settings. This class covers performing CPR on children, infants, and adults, using an AED, and alleviating foreign-body airway obstructions.
Why CPR Certification for Family Members With Disabilities Is Important
The importance of CPR certification for family members with disabilities incorporates more than just taking care of your loved ones, improving their quality of life, and providing empowerment. Having CPR certification also helps caregivers learn how to deal with medical emergencies and provide quick assistance to a person in need.
Since physically and mentally challenged people are more likely to develop heart disease and require more accommodations, knowing how to perform CPR correctly can save a life.